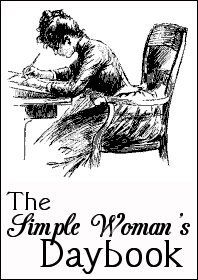 The Simple Woman's Daybook is back at it's original home,
The Simple Woman's blog.
If you are new to the daybook you can go to this
link
to read over the guidelines.
There will be now be one monthly link-up posted on the first Monday of each month. You are free to post a new daybook link here for each daybook you write at your blog, whether that is once a month or if you daybook daily...it does not matter. It is what works best for you. Just please keep the link back to The Simple Woman's Daybook in tact and in view in the body of your post so other's can find us. Thank you for continuing to do this very important step!
I am also linking up with
Diary of a Stay at Home Mom
~*~*~*~*~*~*~*~*~*~*~*~*~*~*~*~*~*~*~*~*~*~*~*~*~
For Today...
August 8th 2016
Outside my window...
The sun is shining, and its hot out.
I am thinking...
that I don't really want to be getting sick...this sore throat can go away.
One of my favorite things...
catching up with old friends.
I am wearing...
white shorts and a light blue tank top
I am creating...
I have finished some towels and dish cloths for the boys, so now I am back working on the hubby's afghan.
I am reading (read) /watching (watched) / listening to...
right now I am watching Bachelor in Paradise
I am hoping...
that the cough/sore throat drops due the trick and the sore throat is gone in the morning.
In my kitchen...
Menu for the week:
Monday ~
ravioli and garlic bread
Tuesday ~
tacos
Wednesday ~
ham and egg brunch braid
Thursday ~
homemade pizza
Friday ~
Slow-Cooker Apple Maple Pork Tenderloin with potatoes and carrots and rolls
Saturday ~
leftovers
Sunday ~
out after church
A few plans for the rest of the week:
Monday ~
laundry, housework, and then vegged for the day, not feeling all that well
Tuesday ~
work
Wednesday ~
work
Thursday ~
work
Friday ~
groceries, errands
Saturday ~
ceiling fan shopping, and hopefully installing one
Sunday ~
church, out for lunch then home
From the board room...
From my
Yummy Desserts/cookies/treats
board. I want to make
these
Photo Credit
A peek into one of my days...
My Saturday night ~ my 30 Year class reunion. So much fun catching up with friend. We didn't have a big class to begin with, but was hoping more could have made it out.. but the 11 of us that did, had a fun night.
A favorite quote for today...
Closing Notes:
Thank you for stopping by and sharing a little bit of my thoughts today! I hope you enjoyed your visit!
To read more Daybooks, please stop by
THE SIMPLE WOMAN
blog.
I am also linking up with
Diary of a Stay at Home Mom