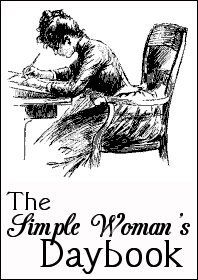 The Simple Woman's Daybook is back at it's original home,
The Simple Woman's blog.
If you are new to the daybook you can go to this
link
to read over the guidelines.
There will be now be one monthly link-up posted on the first Monday of each month. You are free to post a new daybook link here for each daybook you write at your blog, whether that is once a month or if you daybook daily...it does not matter. It is what works best for you. Just please keep the link back to The Simple Woman's Daybook in tact and in view in the body of your post so other's can find us. Thank you for continuing to do this very important step!
~*~*~*~*~*~*~*~*~*~*~*~*~*~*~*~*~*~*~*~*~*~*~*~*~
For Today...
May 4th, 2016
Outside my window...
It is gray and raining.
I am thinking...
That I should get back to work
I am thankful...
that I am now able to work from home.
One of my favorite things...
visiting and reconnecting with friends
I am wearing...
black yoga pant, a safari print top an a black zip up fleece jacket
I am creating...
a gray and pink baby afghan, some mod podge journals, and still working on a C2C afghan for the hubby
I am reading...
no books, just have a couple of magazines: First for Women and Woman's Day
I am hoping...
That my hubby looks at my brakes on my truck, so I am not stuck in the house on my day off, and so I will be able to go into to work on Friday for a work mtg.
I am learning...
how to work with mod podge. What fum this is!!
In my kitchen...
Menu for the week:
Monday ~
spaghetti and meatballs and garlic bread
Tuesday ~
sloppy joes, fries and peaches
Wednesday ~
apple cinnamon pancakes and sausage
Thursday ~
pizza
Friday ~
fish, rice, and corn
Saturday ~
burgers, potato salad and fruit
Sunday ~
not sure, its Mother's Day... so I think I either want the boys to cook, or go out
In my garden...
nothing is going on at the moment, got to get things ready to start some landscaping
A few plans for the rest of the week:
Monday ~
housework, laundry
Tuesday ~
work
Wednesday ~
work
Thursday ~
off..... groceries
Friday ~
work
Saturday ~
nothing is planned
Sunday ~
church, Mother's day
From the board room...
From my
Fairy Gardens board.
I am obsessed with fairy gardens. I first saw one that someone had posted on facebook. I have just started to get some items and will be starting my first one this weekend. I really love the looks of the one below!!
photo credit
A peek into one of my days...
I had a fun weekend with my friend Tina..... she gave me a spa day, and turned me into a blond with some purple in the back!!
A favorite quote for today...
Closing Notes:
Wow...its been a few weeks since my last Daybook. So glad to be back!
To read more Daybooks, please stop by
THE SIMPLE WOMAN
blog.