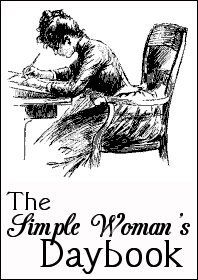 The Simple Woman's Daybook is back at it's original home,
The Simple Woman's blog.
If you are new to the daybook you can go to this
link
to read over the guidelines.
There will be now be one monthly link-up posted on the first Monday of each month. You are free to post a new daybook link here for each daybook you write at your blog, whether that is once a month or if you daybook daily...it does not matter. It is what works best for you. Just please keep the link back to The Simple Woman's Daybook in tact and in view in the body of your post so other's can find us. Thank you for continuing to do this very important step!
I am also linking up with
Diary of a Stay at Home Mom
~*~*~*~*~*~*~*~*~*~*~*~*~*~*~*~*~*~*~*~*~*~*~*~*~
For Today...
May 16th, 2016
Outside my window...
The sun is shining, its 55 degree right now, with a high of 64. No rain in sight, so maybe, just maybe the lawn may get cut tonight!
I am thinking...
about getting a new lawn mower for the hubby for Father's Day. The boys were asking what to get him, so I think they are going to go in on one with me, so we can get a nicer one. Maybe this one:
I am thankful...
for extended family.
One of my favorite things...
opening up the windows and letting in some fresh air!
I am wearing...
right now I am still in my pj's, been a busy morning of cleaning
I am creating...
Just finishing up the diaper/wipe holder - need to put the snap on and sew it together.
I am reading (read) /watching (watched) / listening to...
Still in my binge watch mode of Heartland - Season 7.
I am hoping...
In my kitchen...
Menu for the week:
Monday ~
lasagna roll ups, garlic bread and salad
Tuesday ~
hamburgs and fries
Wednesday ~
pancakes and sausage
Thursday ~
pizza
Friday ~
pork chops, mashed potatoes/gravy and mixed veggies
Saturday ~
out
Sunday ~
out
In my garden...
still in the "thinking" stage of what I want to plant.
A few plans for the rest of the week:
Monday ~
laundry, housework, clean up T's room
Tuesday ~
work
Wednesday ~
work
Thursday ~
work
Friday ~
grocery shopping, errands, work in T's room
Saturday ~
Day/night date with the hubby...going to see Donny and Marie with him, my mother in law and sister in law
Sunday ~
church, lunch and then home to veg
From the board room...
From my
Knitting/crochet
board
These,
slippers
are on my "what's next on the hook" list
Photo Credit
A peek into one of my days...
My hubby starting to put my sewing cart together!!
A favorite quote for today...
Closing Notes:
Thank you for stopping by and sharing a little bit of my thoughts today! I hope you enjoyed your visit!
To read more Daybooks, please stop by
THE SIMPLE WOMAN
blog.
I am also linking up with
Diary of a Stay at Home Mom