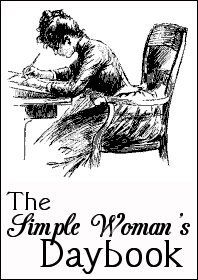 The Simple Woman's Daybook is back at it's original home,
The Simple Woman's blog.
If you are new to the daybook you can go to this
link
to read over the guidelines.
There will be now be one monthly link-up posted on the first Monday of each month. You are free to post a new daybook link here for each daybook you write at your blog, whether that is once a month or if you daybook daily...it does not matter. It is what works best for you. Just please keep the link back to The Simple Woman's Daybook in tact and in view in the body of your post so other's can find us. Thank you for continuing to do this very important step!
I am also linking up with
Diary of a Stay at Home Mom
~*~*~*~*~*~*~*~*~*~*~*~*~*~*~*~*~*~*~*~*~*~*~*~*~
For Today...
May 9th, 2016
Outside my window...
The sun is shining, birds are singing and its going to be close to 72degrees today!
I am thinking...
about all that needs to get done in the house...its starting to overwhelm me!
I am thankful...
for my boys....had a wonderful day with them yesterday!
One of my favorite things...
having someone else cook and clean up for me.... (the boys spoiled me yesterday!)
I am wearing...
a purple zip up hoodie, pink tank top, and purple yoga pants
I am creating...
I just finished up an afghan, and will be starting another diaper/wipe holder. I made my first Fairy Garden as well - love how it turned out!!
I am reading (read) /watching (watched) / listening to...
Right now I am binge watching Heartland. I need to find season 7,8,9, as these are not on Netflix.
I am hoping...
that my hubby finishes up my truck, so I am not without it again this week!
In my kitchen...
Menu for the week:
Monday ~
leftovers from the weekend
Tuesday ~
tacos and Spanish rice
Wednesday ~
eggs, sausage, hashbrowns and toast
Thursday ~
pizza
Friday ~
blt's and potato salad
Saturday ~
going out hopefully
Sunday ~
not sure yet
In my garden...
still trying to decided on what flowers and plants I want to put in for the landscape
A few plans for the rest of the week:
Monday ~
housework, laundry
Tuesday ~
work
Wednesday ~
work
Thursday ~
work
Friday ~
groceries, errands, working in craft room
Saturday ~
helping a friend for a bit on a grad open house project, then hopefully dinner with the hubby
Sunday ~
church, and then home to veg probably
From the board room...
From my
Kitties/Puppies/treats board.
I want to try and make one of
these
for Lici, but with her name instead of "sit"
photo credit
A peek into one of my days...
Mother's Day ~ love spending time with my guys
A favorite quote for today...
Closing Notes:
Thank you for stopping by and sharing a little bit of my thoughts today! I hope you enjoyed your visit!
To read more Daybooks, please stop by
THE SIMPLE WOMAN
blog.
I am also linking up with
Diary of a Stay at Home Mom