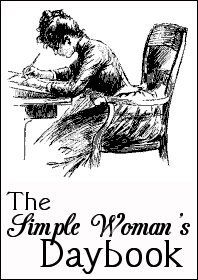 The Simple Woman's Daybook is back at it's original home,
The Simple Woman's blog.
If you are new to the daybook you can go to this
link
to read over the guidelines.
There will be now be one monthly link-up posted on the first Monday of each month. You are free to post a new daybook link here for each daybook you write at your blog, whether that is once a month or if you daybook daily...it does not matter. It is what works best for you. Just please keep the link back to The Simple Woman's Daybook in tact and in view in the body of your post so other's can find us. Thank you for continuing to do this very important step!
I am also linking up with
Diary of a Stay at Home Mom
~*~*~*~*~*~*~*~*~*~*~*~*~*~*~*~*~*~*~*~*~*~*~*~*~
For Today...
Outside my window...
We have clear blue skies, and much cooler temps!!
I am thinking...
that I have done enough housework for the day...been up since 5:30, so a nice break is in order, and just in time for the premiere of T. D. Jakes new show on ABC
I am thankful...
for the time I can spend with my husband for us to reconnect.
One of my favorite things...
seeing my husband smile while playing the guitar for our Lord.
I am wearing...
some gray yoga pants and a teal tshirt.
I am creating...
a couple of different afghans, one for Trent, and a beachy colored one for myself. Also making some valances for my office. This is Trent's so far
I am reading (read) /watching (watched) / listening to...
Reading: Good Housekeeping magazine. Watching - getting ready to watch TD Jakes new show
I am hoping...
to get my valances finished today, so I can complete my office makeover.
In my kitchen...
Menu for the week:
Monday ~
fish, rice, corn
Tuesday ~
ham, scalloped potatoes, corn
Wednesday ~
breakfast ?
Thursday ~
pizza
Friday ~
tacos
Saturday ~
hubs - sub... Me - party food - ham balls, veggie tray, some sort of sweet treat
Sunday ~
church potluck - brining pasta salad
A few plans for the rest of the week:
Monday ~
housework, laundry, sewing, painting door, crochet
Tuesday ~
work
Wednesday ~
work
Thursday ~
work
Friday ~
grocery shopping, errands, lunch with my Pastor's wife
Saturday ~
get house ready for my Launch party
Sunday ~
church, potluck, home to veg
From the board room...
From my
Fall is my favorite Season
board
Photo credit
A peek into one of my days...
A night at the races
A favorite quote for today...
Closing Notes:
Thank you for stopping by and sharing a little bit of my thoughts today! I hope you enjoyed your visit!
To read more Daybooks, please stop by
THE SIMPLE WOMAN
blog.
I am also linking up with
Diary of a Stay at Home Mom