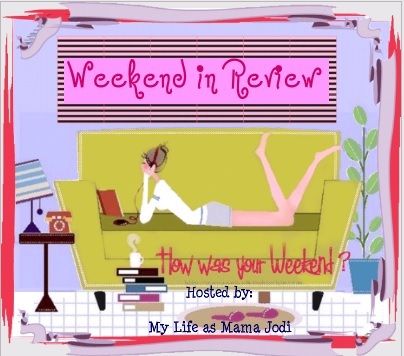 Weekend rewind. If you want to play along, grab the above button and tell me all about your weekend!
Friday
~ Grocery shopping in the morning. Bought the pup some new tennis balls, so had to play for an hour or so with her, hen off to get my nails done. Stopped at Joann's to get some yarn to work on towels/dishcloths for the boys. Then home to veg for the day - still dealing with eye problems.
Saturday
~ very lazy day, the only things that got done, was an oil change of John's car and then he put up the curtains in the front entry way! What a night and day difference, why we didn't think of doing that years ago, I will never know. That room should be much cooler with the thermal backed curtains.
Sunday
~ Church in the morning, then off to the aunt/uncles for lunch. Once home the hubs and I vegged in front of the boob tube. Very low key weekend.
Let me know if you play along.
Mister Linky's Magical Widgets -- Auto-Linky widget will appear right here!
This preview will disappear when the widget is displayed on your site.
If this widget does not appear,
click here
to display it.