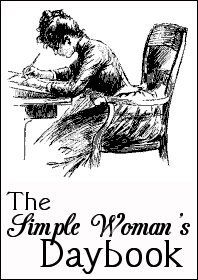 The Simple Woman's Daybook is back at it's original home,
The Simple Woman's blog.
If you are new to the daybook you can go to this
link
to read over the guidelines.
There will be now be one monthly link-up posted on the first Monday of each month. You are free to post a new daybook link here for each daybook you write at your blog, whether that is once a month or if you daybook daily...it does not matter. It is what works best for you. Just please keep the link back to The Simple Woman's Daybook in tact and in view in the body of your post so other's can find us. Thank you for continuing to do this very important step!
I am also linking up with
Diary of a Stay at Home Mom
~*~*~*~*~*~*~*~*~*~*~*~*~*~*~*~*~*~*~*~*~*~*~*~*~
For Today...
July 25th, 2016
Outside my window...
Its cloudy, and very muggy...so ready for some cooler air they say we are getting this week!
I am thinking...
about the electric bill we should be getting any day now...its going to be horrible, after running the air, fan and attic fan nonstop for the last week or so!
I am thankful...
for said air conditioners. I don't know what I would have done without them these last few weeks!
One of my favorite things...
ice cream on a hot, summer night
I am wearing...
still in my pj's, but will be wearing some shorts and a tank top in a litle while.
I am creating...
some mason jar covers, and then finished this wreath
I am reading (read) /watching (watched) / listening to...
just finished season 1 of Born This Way on A & E. Ready for Season 2 to start tomorrow!!
I am hoping...
that we get the cooler weather this week!
In my kitchen...
Menu for the week:
Monday ~
spaghetti, garlic bread and salad
Tuesday ~
burgers, peaches and tater salad
Wednesday ~
breakfast
Thursday ~
pizza
Friday ~
leftovers
Saturday ~
fish, rice, corn
Sunday ~
out after church
In my garden...
nada
A few plans for the rest of the week:
Monday ~
laundry, housework, quick run to the store, and back to croheting
Tuesday ~
work
Wednesday ~
work
Thursday ~
work
Friday ~
grocery shopping and errands
Saturday ~
nothing on the agenda so far
Sunday ~
church, out for lunch, then home to veg
From the board room...
From my
Yummy Desserts/Cookies/Treats
board.
Puff Pastry Cannoli Cones
will be the dessert of choice for sometime this week. OH my!
Photo credit
A peek into one of my days...
I went to a Wine & Canvas party on Friday night with my cousin...it was a lot of fun
My cousin and I with our finished paintings
My finished painting ~ not to shabby for a first timer
A favorite quote for today...
Closing Notes:
Thank you for stopping by and sharing a little bit of my thoughts today! I hope you enjoyed your visit!
To read more Daybooks, please stop by
THE SIMPLE WOMAN
blog.
I am also linking up with
Diary of a Stay at Home Mom