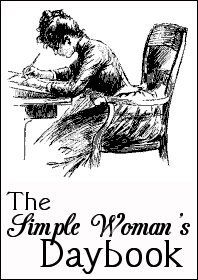 The Simple Woman's Daybook is back at it's original home,
The Simple Woman's blog.
If you are new to the daybook you can go to this
link
to read over the guidelines.
There will be now be one monthly link-up posted on the first Monday of each month. You are free to post a new daybook link here for each daybook you write at your blog, whether that is once a month or if you daybook daily...it does not matter. It is what works best for you. Just please keep the link back to The Simple Woman's Daybook in tact and in view in the body of your post so other's can find us. Thank you for continuing to do this very important step!
I am also linking up with
Diary of a Stay at Home Mom
~*~*~*~*~*~*~*~*~*~*~*~*~*~*~*~*~*~*~*~*~*~*~*~*~
For Today...
June 13th, 2016
Outside my window...
the sun is shining, and its looking like its going to be a nice day!
I am thankful...
for my wonderful husband, and all that he does for me and the boys!
I am wearing...
shorts and a purple top
I am creating...
several lapghans.
I am reading (read) /watching (watched) / listening to...
nothing at the moment, just hearing the washer
I am hoping...
that whatever eye drops the doc gives me, clears up my eyes! They hurt so bad!
In my kitchen...
Menu for the week:
Monday ~
spaghetti, garlic bread
Tuesday ~
leftovers
Wednesday ~
eggs, toast and sausage
Thursday ~
pizza
Friday ~
burgers, fries
Saturday ~
out maybe
Sunday ~
steak, baked potato and a salad
A few plans for the rest of the week:
Monday ~
laundry, housework, crochet, doctor appt
Tuesday ~
work
Wednesday ~
work
Thursday ~
work
Friday ~
groceries, errands, taking the hubby's car to get the exhaust worked on
Saturday ~
maybe going kayaking with the hubs and then a movie
Sunday ~
church, lunch, home to veg
A favorite quote for today...
Closing Notes:
Thank you for stopping by and sharing a little bit of my thoughts today! I hope you enjoyed your visit!
To read more Daybooks, please stop by
THE SIMPLE WOMAN
blog.
I am also linking up with
Diary of a Stay at Home Mom