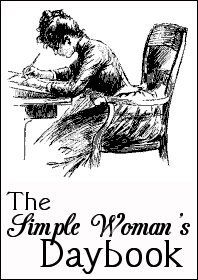 The Simple Woman's Daybook is back at it's original home,
The Simple Woman's blog.
If you are new to the daybook you can go to this
link
to read over the guidelines.
There will be now be one monthly link-up posted on the first Monday of each month. You are free to post a new daybook link here for each daybook you write at your blog, whether that is once a month or if you daybook daily...it does not matter. It is what works best for you. Just please keep the link back to The Simple Woman's Daybook in tact and in view in the body of your post so other's can find us. Thank you for continuing to do this very important step!
I am also linking up with
Diary of a Stay at Home Mom
~*~*~*~*~*~*~*~*~*~*~*~*~*~*~*~*~*~*~*~*~*~*~*~*~
For Today...
June 6th, 2016
Outside my window...
Right now the sun is out, but the clouds are starting to move in, and its looking like its going to be a rainy day....ugh I have places to go today, got to break out the umbrella!
I am thankful...
that the weather held out for us on Saturday so we could get the yard work done and the errands ran.... we just barely made it back home before a storm hit.
One of my favorite things...
quiet times. The TV is off, I am only hearing the clicking of the keys and my clock.
I am wearing...
right now, still in my pj's, but off to shower soon, and will be in some white shorts and a purple top
I am creating...
I am putting together some of the granny squares for the lapgans we are making for a church project
I am reading (read) /watching (watched) / listening to...
nothing right now, but have a few shows to binge watch on netflix that just added a new season!
In my kitchen...
Menu for the week:
Monday ~
spaghetti and garlic bread
Tuesday ~
leftovers
Wednesday ~
pancakes and sausage
Thursday ~
pizza
Friday ~
burritos
Saturday ~
subs for the hub, I will be at some open houses
Sunday ~
not sure yet
In my garden...
still in the "thinking" stage of what I want to plant.
A few plans for the rest of the week:
Monday ~
laundry, housework, (most is done already, been a busy morning and its only 8:20! Going to Goodwill to find some shorts, then to the hospital to visit with a freind
Tuesday ~
work
Wednesday ~
work
Thursday ~
work
Friday ~
grocery shopping, errands
Saturday ~
being lazy the first half of the day, then its off to a few graduations open houses.
Sunday ~
church
A peek into one of my days...
This was my day on Friday ~ watching my cousins little girls
A favorite quote for today...
Closing Notes:
Thank you for stopping by and sharing a little bit of my thoughts today! I hope you enjoyed your visit!
To read more Daybooks, please stop by
THE SIMPLE WOMAN
blog.
I am also linking up with
Diary of a Stay at Home Mom