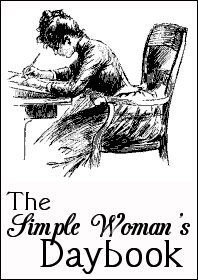 The Simple Woman's Daybook is back at it's original home,
The Simple Woman's blog.
REMEMBER
if you are linking up you will need to change your link from the
old
one to the
new
one. Thank you! (If you are new to the daybook you can go to this
link
to read over the guidelines.)
I am also linking up with
Diary of a Stay at Home Mom
~*~*~*~*~*~*~*~*~*~*~*~*~*~*~*~*~*~*~*~*~*~*~*~*~
For Today...
March 7th, 2016
Outside my window...
Its 43 degrees out, and the snow is melting!! So ready for Spring weather!! The weather for the week:
I am thinking...
about all I have to do this week to get us ready for vacation!
I am wearing...
yoga pants and a pink hoodie
I am creating...
I am working on the new baby afghan, all the squares are stitched together, the border is almost complete, then to add the daisies. I also whipped out these cute cat butt coasters that a friend posted she thought was cute (she is going to be surprised with them today when they arrive in the mail to her!) Then will be back to the other afghan.
I am going...
to clean out the truck later today.
I am reading...
Still searching for a new book to read
On my TV.....
Madam Secretary
I am hoping...
that we have nice driving weather, and hit no construction on our way South later this week!
In my kitchen...
Menu for the week:
Monday ~
lasagna roll ups and garlic bread
Tuesday ~
hamburgs and fries
Wednesday ~
breakfast - eggs, toast, sausage, hashbrowns, oranges
Thursday ~
pizza
Friday ~
1st day of vacation... so no menu planning for the next week!
Saturday ~
?
Sunday ~
?
A favorite quote for today...
A few plans for the rest of the week:
Monday ~
laundry, housework, cleaning out the truck, crochet
Tuesday ~
getting my nails done, picking up a few grocery items for my youngest (he is house/dog sitting for us while we are gone
Wednesday ~
work
Thursday ~
work
Friday ~
Vacation!! Driving South for the next week!
Saturday ~
Arriving in South Carolina!!
Sunday ~
hopefully hanging out on the beach!
From the board...
From my
Hairstyles
board.
Purple hair??
This is what I am wanting to do my hair!
To read more Daybooks, please stop by
THE SIMPLE WOMAN
blog.
I am also linking up with
Diary of a Stay at Home Mom