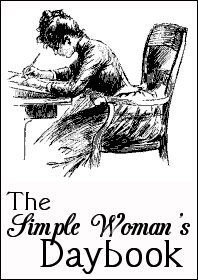 The Simple Woman's Daybook is back at it's original home,
The Simple Woman's blog.
REMEMBER
if you are linking up you will need to change your link from the
old
one to the
new
one. Thank you! (If you are new to the daybook you can go to this
link
to read over the guidelines.)
I am also linking up with
Diary of a Stay at Home Mom
~*~*~*~*~*~*~*~*~*~*~*~*~*~*~*~*~*~*~*~*~*~*~*~*~
For Today...
February 29th, 2016 Its Leap Day!!
Outside my window...
Its 34 degrees right now, with a high of 41 for today. Its very windy out today...with snow on the horizon! Ugh... the weather for the week:
I am thinking...
about how I want to rearrange the living room, to make room for the desk. We have some configuring to do to make the modem work for both our desk top computer and my work computer that I need to put in an upstairs bedroom.
I am wearing...
yoga pants and a black hoodie
I am creating...
I am working on some crochet projects, a little at a time. My thumb/wrist still hurts, but I can at least work for a little bit each day. I need/want to finish this baby afghan that I just started for a friend, that I will be going to see the end of April.....then back to the Christmas afghan. This is the baby afghan I am working on (I have 5 squares of the light pink color, and 1.5 of the cream colored squares done and all of the daisies done)
I am going...
to the store later, in search of a ethernet cable that will be long enough to do what I am envisioning for out modem hookups!
I am reading...
Still searching for a new book to read
On my TV.....
When Calls the Heart
I am hoping...
that we don't get much snow with the next round of snow in our forecast!
In my kitchen...
Menu for the week:
Monday ~
sketti, garlic bread and a salad
Tuesday ~
minestrone soup and homemade bread
Wednesday ~
breakfast - eggs, toast, sausage, hashbrowns, oranges
Thursday ~
pizza
Friday ~
nachos
Saturday ~
burgers and fries
Sunday ~
steak, baked potato and a salad
Side note: Saturday I decided to make those lasagna rolls ups I posted last week, and oh my!! They were so yummy!! I am going to put this into rotation quite frequently!
A favorite quote for today...
A peek into one of my days...
This was my Saturday - hair coloring session
A few plans for the rest of the week:
Monday ~
laundry, housework, gym, running some errands, crochet
Tuesday ~
gym, cleaning the upstairs (I really need to do this today ~still!)
Wednesday ~
work
Thursday ~
work
Friday ~
cleaning and vegging
Saturday ~
hanging out with the hubby
Sunday ~
church, then home to veg with my hubby
From the board...
From my
Nail Designs
board.
Pretty purple nails
is the design I am going with for my upcoming vacation!
To read more Daybooks, please stop by
THE SIMPLE WOMAN
blog.
I am also linking up with
Diary of a Stay at Home Mom