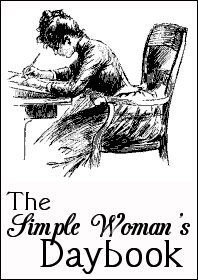 The Simple Woman's Daybook is back at it's original home,
The Simple Woman's blog.
REMEMBER
if you are linking up you will need to change your link from the
old
one to the
new
one. Thank you! (If you are new to the daybook you can go to this
link
to read over the guidelines.)
I am also linking up with
Diary of a Stay at Home Mom
~*~*~*~*~*~*~*~*~*~*~*~*~*~*~*~*~*~*~*~*~*~*~*~*~
For Today...
February 22nd, 2016
Outside my window...
Its 28 degrees right now, with a high of 39 for today. Its going to be a cloudy day..... the weather for the week:
I am thinking...
I need to get up and get moving, so I can get everything done today so I can play/veg out for the rest of the day!
I am thankful...
for the wonderful weekend I had with my husband and boys.
I am wearing...
fleece jammie pants and a pink fleece zip up jacket - I need to go get on my gym clothes.
I am creating...
I am working on some crochet projects, a little at a time. My thumb/wrist still hurts, but I can at least work for a little bit each day. I need/want to finish this baby afghan that I just started for a friend, that I will be going to see the end of April.....then back to the Christmas afghan. This is the baby afghan I am working on (I have 5 squares of the light pink color, and 1.5 of the cream colored squares done and all of the daisies done) :
Photo credit
I am going...
to they gym in a few, then home for a quick shower, then off to Best Buy for them to look at my camera and get a new SD card.
I am reading...
Just finished Candace's book, it was a great read! Now to find something new to start.
On my TV.....
I am watching Madam Secretary
I am hoping...
that they guys at Best Buy can tell me what I am doing wrong with my camera, as I really want it work for me when we go on vacation next month!
In my kitchen...
Menu for the week:
Monday ~
trout, rice and some sort of veggie
Tuesday ~
burritos
Wednesday ~
breakfast - eggs, toast, sausage, hashbrowns, oranges
Thursday ~
pizza
Friday ~
brats, beans and potato salad
Saturday ~
steak, baked potato and a salad
Sunday ~
pork chops, scalloped potatoes, corn and rolls (didn't make this last week)
A favorite quote for today...
A peek into one of my days...
The many faces we get of Lici after she plays hard
A few plans for the rest of the week:
Monday ~
laundry, housework, gym, trip to Best Buy, crochet
Tuesday ~
gym, cleaning the upstairs (I really need to do this today!)
Wednesday ~
work
Thursday ~
work
Friday ~
grocery shopping, cleaning and vegging
Saturday ~
hanging out with the hubby
Sunday ~
church, then home to veg with my hubby
From the board...
From my
Mmmmm lets eat
board.
Lasanga roll ups
will have to go on the menu for next week!
Photo credit
To read more Daybooks, please stop by
THE SIMPLE WOMAN
blog.
I am also linking up with
Diary of a Stay at Home Mom