Did some baking today, the house smells so yummy! I wanted to add chocolate chips to the pumpkin bread, but alas, the hubby had a sweet tooth and ate the chocolate chips. Luckily I had some raisins on hand and added them into the batter. I halved the following recipe.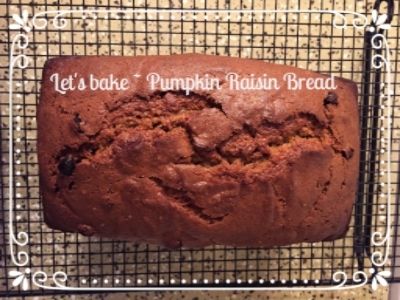 Pumpkin bread
3 1/2 cups flour
2 tsp baking soda
2 tsp salt
1 tsp baking powder
1 tsp ground nutmeg
1 tsp ground allspice
1 tsp ground cinnamon
1/2 tsp ground cloves
3 cups sugar
1 cup canola oil
4 eggs, beaten
2 cups solid pack pumpkin puree
2/3 cup water
Preheat oven to 350. Grease 2 loaf pans
In a medium bowl, combine flour, baking soda, salt, baking powder, nutmeg, allspice, cinnamon and cloves.
In a large bowl with an electric mixer, blend sugar, oil and eggs. Stir in pumpkin. Slowly blend the flour mixture into the pumpkin mixture. While blending add the water. Pour the batter into the pans.
You can add additional chocolate chips or raisins before pouring into the pans. A cup or a cup and a hald (eyeball it to your liking).
Bake in a preheated 350 oven for 90 minutes. Let cool fro 10 minutes before removing from the pans.
Enjoy!