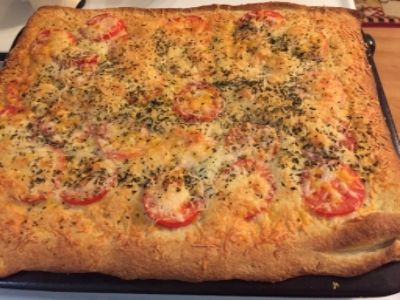 Fantastic Focaccia Bread
Ingredients
1 package (13.8 ounces) refrigerated pizza crust
2 garlic cloves, pressed
2/3 cup (2 oz) grated fresh Romano or Parmesan cheese, divided
2 cups (8 oz) shredded mozzarella cheese, divided
2 teaspoons dried oregano leaves, divided
2 plum tomatoes, sliced
Directions
Preheat oven to 375°F. Roll out pizza crust to within 1 inch of edge of Rectangle Stone using lightly floured Baker's Roller®. Press garlic over crust using Garlic Press; spread evenly using Skinny Scraper.
Grate half of the Romano cheese over crust using Rotary Grater. Sprinkle with half of the mozzarella cheese and 1 teaspoon of the oregano. Thinly slice tomatoes with Ultimate Mandoline fitted with adjustable thin slicing blade; arrange in single layer over cheese. Top with the remaining mozzarella cheese and oregano. Grate the remaining Romano cheese over top.
Bake 25-28 minutes or until crust is golden brown and cheese is bubbly. Cut into squares with Pizza Cutter; serve hot using Mini-Serving Spatula.
Yield: 24 servings of 2 appetizers