I was given the opportunity to view the movie Woodlawn before it is out in theaters. I have loved other movies that Pure Flix has made, and knew that I would enjoy this one just as much.
Here's the quick synopsis: From Pure Flix (GOD'S NOT DEAD, DO YOU BELIEVE?), Roma Downey and Mark Burnett (THE BIBLE, SON OF GOD) and the Erwin Brothers (MOM'S NIGHT OUT, OCTOBER BABY) comes WOODLAWN, an exhilarating high school football drama and remarkable true story of how love and unity overcame racism and hate in early 1970s Birmingham, Alabama. Starring Academy Award winner Jon Voight, Sean Astin, Nic Bishop and newcomer Caleb Castille, WOODLAWN depicts the spiritual awakening that captured the hearts of a team and unified an entire city.
Enjoy the trailer:
I love how the players all come together to overcome the racial split. The meaning behind this movie, is something that I wish everyone could grasp! We all need to overcome the hate between races. I think the director, Andy Erwin says it best:
"I'm passionate about the truth that the only way to overcome hate is by a greater law – and that's love and forgiveness. And Jesus is the ultimate way to receive and give both love and forgiveness."
These are the items I have for the giveaway. I was given two sets, one for myself and one to give away to on of my readers.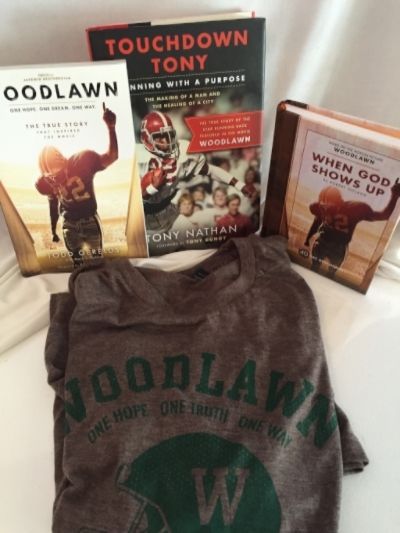 3 books and a t-shirt, which is a size XL.
WOODLAWN
, by Todd Geralds, on which the movie is based
TOUCHDOWN TONY
, by Tony Nathan, the autobiography of the superstar player on whose life the film is based.
WHEN GOD SHOWS UP
, by Robert Noland, a 40-day devotional tied to the themes of the film.
I am already enjoying the 40 devotional, and my boys have already got their hands on the books, so once they are finished with them I will be reading them.
This is a family friendly movie that all will enjoy. Its out in theaters Oct. 16th, 2015. If you get the chance, go see this movie!!
Enter below. This giveaway is open until Tuesday, Oct. 20th, 2015. Good luck!!
a Rafflecopter giveaway