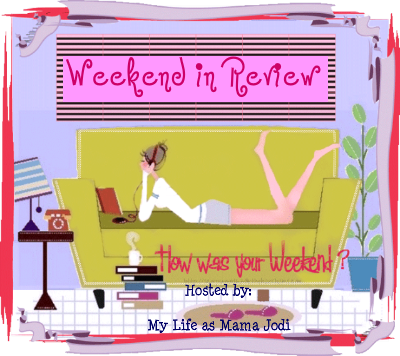 Weekend rewind. If you want to play along, grab the above button and tell me all about your weekend!
Friday
~ Grocery shopping in the morning, did some cleaning and organizing around the house. Hung out at home with the hubby.
Saturday
~ Slept in (I think I have finally caught up on sleep and don't feel so jet lagged!), then headed out to Home Depot to pick out paint for the kitchen. Once home, found out that we weren't just going to paint over the wallpaper, John wanted to take it all down... ugh... so hoping this was a wise choice, as the wallpaper was put up as it hid all of the imperfections in the walls. So that is what I did for the better half of the day, while John painted We took our break from that to shower then head out for a date night.... we went to Outback for dinner (thanks to the hubby's wonderful boss with the generous gift card!), then a stop at Home Depot again for a few other items.
Sunday
~ church in the morning, a nice Sunday afternoon nap before dinner... of grilled steak, baked potato, corn on the cob and a salad. I went to our Ladies meeting for church, then home to continue on the kitchen project.
Let me know if you play along.
Mister Linky's Magical Widgets -- Easy-Linky widget will appear right here!
This preview will disappear when the widget is displayed on your site.
If this widget does not appear,
click here
to display it.