Brrrr...it feels more like Fall weather, rather than the end of Summer! So it got me in the mood to do some baking. Its been a long while since I have been in the mood to bake. While getting groceries on Friday, one of of the end caps they had a display of all Fall like baking goodies.. .pumpkin, some carmel apple cookie mix (I resisted the urge to buy these, next week maybe).
The house smells so yummy! I am off to go enjoy one while they are still warm!!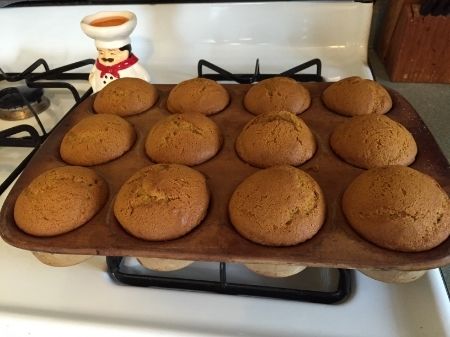 I did a video tutorial for you as well!
Pumpkin Bread (muffins) (I halved the recipes for just muffins)
Ingredients:
3 1/2 cups flour
2 tsp baking soda
2 tsp salt
1 tsp baking powder
1 tsp nutmeg
1 tsp allspice
1 tsp cinnamon
1/2 cloves
3 cups sugar
1 cup oil
4 eggs, beaten
2 cups solid pack pumpkin puree
2/3 cup water
Directions:
1. Preheat oven to 350. Grease two loaf pans
2. In a medium bowl combine the flour, baking soda, salt, baking powder, nutmeg, allspice, cinnamon and cloves.
3. In a large bowl with an electric mixer, blend the sugar, oil and eggs. Stir in the pumpkin. Slowly blend in the flour mixture, alternating with the water. Pour into the prepared pans.
4. Bake in preheated 350 degree oven for 90 minutes. Let cool for 10 mins. before removing from the pan.
Mini muffins - bake for 10-15 minutes
Mini loaves - bake for 35-45 minutes
Muffins - bake 20-25 minutes
Enjoy!!