The Simple Woman's Daybook is back at it's original home, The Simple Woman's blog.
REMEMBER
if you are linking up you will need to change your link from the
old
one to the
new
one. Thank you!
(If you are new to the daybook you can go to this
link
to read over the guidelines.)
~*~*~*~*~*~*~*~*~*~*~


For Today...
May 11th, 2015
Outside my window...
Oh how I long to sit out here at this time of day, when its still quiet. Its been rainy and damp for the last week; I just want to get out there and spruce up the deck and yard!
I am thinking...
that I need to get up and get moving...lots of laundry to get to today (bedding and blankets always makes for a heavy day
I am thankful...
for my boys. They have grown up into a couple of good looking, caring young men!
I am wearing...
blue capri yoga pants and a white/gray/purple/teal zip up hoodie
I am creating...
crochet: same projects; putting my craft room together
I am going...
to be doing some binge watching as my oldest hooked me up with lots of movies and some TV shows yesterday!
I am reading...
nothing at the moment
I am hoping...
that the weather is nice this week, as we need to get the lawn mowed, its turning into a jungle out there.
I am learning...
that I just don't have the knack for making homemade bread. Last weeks try was a flop again! I guess its time I invest in a bread maker. I may have to look for one at a thrift store.
In my garden...
nothing going on at the moment.
In my kitchen...
Menu for the week:
Monday ~ lasagna, garlic bread and a salad
Tuesday ~ leftovers
Wednesday ~ eggs, sausage, hash browns and toast
Thursday ~ pizza
Friday ~ hamburgs and fries
Saturday ~ something on the grill, not sure what yet
A favorite quote for today...
A peek into one of my days...
What my Friday's look like when I get home from the grocery store from now until Fall ~ the kitty attacks the bag that has the strawberries in it.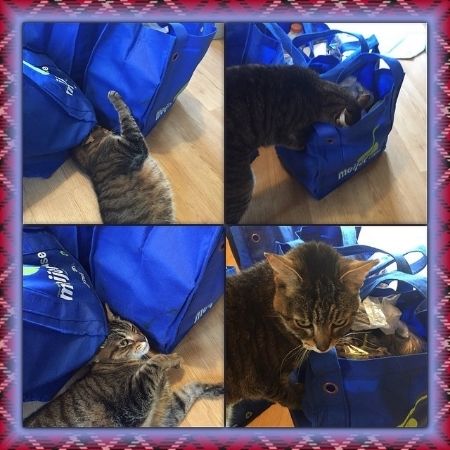 One of my favorite things...
I love this time of year, when we have fresh fruit. I will cut up a big bowl that will last us most of the week. For dinners and lunches. It will last longer now, as its just the hubby and I at home. watermelon, cantelope, blueberries, blackberries, raspberries, strawberries and pineapple
A few plans for the rest of the week:
Monday ~ laundry and housework, possibly getting some highlights in my hair, painting in my craft room if my hubby gets my side units finished
Tuesday ~ painting if not done on Monday, working in my craft room
Wednesday ~ work
Thursday ~ work
Friday ~ grocery shopping, and highlights if not done on Monday, maybe girls night at my friends
Saturday ~ if weather is nice: yard work, maybe a bike ride with the hubby
Sunday ~ church, lunch, vegging with my hubby
From the board room...
I love this recycled door use, from my
craft board>




photo credit



Post Script... I have recently stumbled upon The Holderness family on youtube. Their videos are so funny!



To read more Daybooks, please stop by THE SIMPLE WOMAN blog.