That with all of the cold temps and being somewhat snowed in, I would bet getting lots of crochet/knitting and or baking done. But nope, all I want to do is sleep, or just lose myself in mindless TV. I so hate the winter blues! After being cooped up in the house for 4 days, I finally got out of the house for a few hours, for a lunch date with a few former coworkers. It was good catching up, and seeing the baby belly on one of them! Can't wait to meet the little guy!
This little outing got me back into somewhat of a groove, I did a little baking, worked on more crochet projects and did some online browsing for some ideas for future projects. In doing so, more and more ads were popping up for
online pharmacy tcds
. Still trying to figure out how these even pop up as they don't have anything to do with crocheting and or baking.
I did make some yummy pretzels yesterday.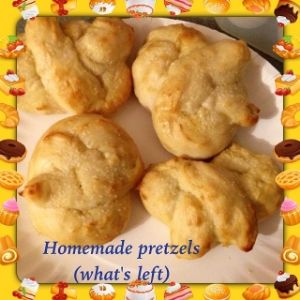 Next up is homemade white bread, just hoping that this loaf actually rises, as I am in the mood for some thick slices of yummy homemade bread, slightly toasted with layers of peanut butter and jelly on them. Mmmmm
Happy Thursday!!