Today is slowly coming to an end, but I still want to get out a new weekly meme. I hope you all play along every week with me! I seem to have several projects going at any given time, and I am curious to know if there are others out there like me! So I am hoping you join in on my new weekly meme of WIP (work in progress) Wednesday. Grab the fun logo below and play along!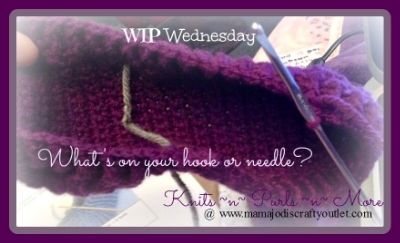 My work in progress right now, is the logo above. I am working on pair of crocodile stitch slippers. I am loving how this stitch looks. The slippers are a quick project to make, once you get the hang of the pattern! I have made several pairs so far. This time I am finally working on something for just me!
I also have have an afghan in progress for my oldest son, that I am hoping to get back to working on as soon as the slippers are complete. Then it will be back to working on other things to get a stockpile going so I have plenty for any upcoming craft shows I plan on attending!
So what's on your hook/needle?
Mister Linky's Magical Widgets -- Auto-Linky widget will appear right here!
This preview will disappear when the widget is displayed on your site.
For best results, use HTML mode to edit this section of the post.