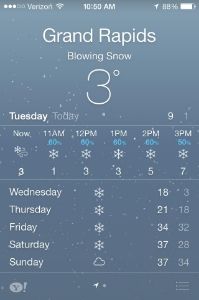 The deep freeze is upon us! It's a balmy 3 degrees outside, factor in the windchill and we are in the negative temps! Poor Lici doesn't like to go out in this weather, so its a quick power pee for her. I am homebound yet again, and starting to go a little stir crazy! So hopefully tomorrow is the day that the weather takes a turn and my hubby gets back in his car!
This is my morning so far! Both Lici and Lulu decided it was time to snuggle with mom. When they both tag me its gets overwhelming, but today I didn't mind. Its cold in the house, so it nice to snuggle under a couple of blankets with them. I'll sit with them a little while longer, then its back to the grind. I have lots of laundry to finish, after the setback yesterday of the dryer not working.
I have lots of baking to do as well today. I am going to try once again at making homemade bread. I am so hoping that it raises like it should. I am searching for a yummy cranberry orange muffin recipe, I don't want to keep buying a box mix from the store. While they are yummy, homemade ones are always so much better! Pinterest and Allrecipes will be my friend over the next few days, searching for a recipe.
Morning break is over, time to get the animals off my lap and get busy! Then hopefully in the next few hours I can snuggle back under the blankets with them.
Happy Tuesday!!