I have been pinteresting again, and found some yummy cookies and treats I want to make this holiday season. Starting with these.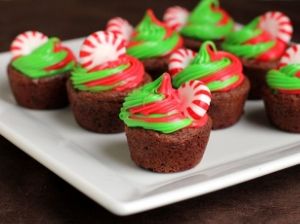 Holiday Mini Mint Cookie Cups
1 pouch Betty Crocker® chocolate chunk cookie mix
1 1/2 cups butter, softened
1 egg
8 cups powdered sugar
1 teaspoon peppermint extract
Red and green food color
24 hard round peppermint candies, unwrapped
Directions
1. Heat oven to 350°F. Generously grease 24 mini muffin cups with shortening or cooking spray.
Generously sprinkle with unsweetened cocoa powder or flour; tap off any excess.
2. In medium bowl, stir together cookie mix, 1/2 cup of the butter and the egg until dough forms.
Roll dough into 1-inch balls; place each ball in mini muffin cup.
3. Bake 11 to 13 minutes or until set.
4. Remove muffin pan from oven. With rounded handle of wooden rolling pin, press small indentation
into each cookie to form cup. Cool completely before removing from muffin cups.
5. Meanwhile, in large bowl, beat powdered sugar, remaining 1 cup butter and the peppermint extract
with electric mixer on medium-high speed until well combined.
6. Place half of frosting in each of 2 separate bowls; tint 1 red and other green with food color.
Spoon each frosting into separate disposable plastic decorating bag. Pinch tip of each bag together;
snip about 1 inch up. Slide both bags into third decorating bag fitted with large star tip.
7. Pipe frosting into each cookie cup. Garnish each with peppermint candy.