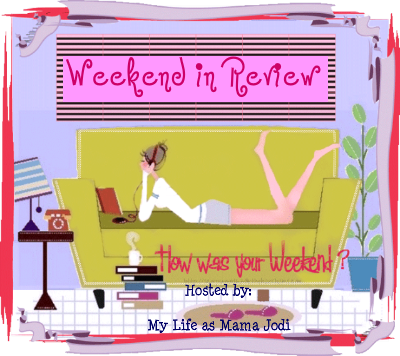 Weekend rewind. If you want to play along, grab the above button and tell me all about your weekend!
Thursday
~ I had to add Thursday in for this long weekend. Thanksgiving Day - Up early to get all the food prep ready to go. Not only did I have the normal turkey dinner, Christopher had asked me to fix a pork roast for him to take in to work later (he had to work at 7:30 pm until the next day sometime, and everyone was bringing in a dish - lucky for him all I had to do was throw it in the crock pot). We had a very lazy day with lots of good food, Lions game on the tube (I watched The Following on my computer) - which they won, Go Lions! I then did some shopping online and got John's present.
Friday
~ I ventured out with Robyn to do some Black Friday Shopping - and no we don't get up and go during the crazy busy hours. We always go around 10. I had nothing in mind that I needed or wanted to purchase, but ended up getting Trent's, and I am so hoping he still likes and wants this item! Once shopping was done, it was home for a nap and dinner of leftovers. Then back over to Robyn's for our Friday night Girls night. So nice to have Cary back at them! Lots of laughs!
Saturday
~ Groceries in the morning, and a stop at Michael's to get a few items. Then off to meet up with a couple of people who bought some items I had posted for sale. The rest of the day/night I vegged all day with the boob tube on and a crochet hook and yarn in my hands.
Sunday
~ A very lazy day was had at our house! Here it is 7 in the evening, and I have never gotten dressed! LOL I made a peach cobbler/coffee cake, that made a huge mess (so glad I put it on a cookie sheet, otherwise I would have to add "cleaning my oven" to my to do list for tomorrow), it was yummy, but next time I make it, it will be put in a 9 x 13 baker, as opposed to the spring form pan it calls for. John has been busy working on an amp, he is trying to figure out how to apply the chauvet slim pack 56 at musicians friend to it, but is having all sorts of problems. He has broken a drill bit, so a trip to Menards it was for him tonight.
I waited all day for Trent to call, only to have him text me, when I was in and out of a nap. So our convo consisted of texts this weekend. He passed his ruck march, and is now an official American Soldier. He has one week left of basic training. He transitions into the AIT portion of his training for Military Police this coming Friday. Just a few more weeks before he gets his holiday leave time!
Let me know if you play along
Mister Linky's Magical Widgets -- Auto-Linky widget will appear right here!
This preview will disappear when the widget is displayed on your site.
For best results, use HTML mode to edit this section of the post.