I am going to try out this recipe next week. Its been awhile since I have made homemade cookies (other than the break n bake kind), so the guys will be happy!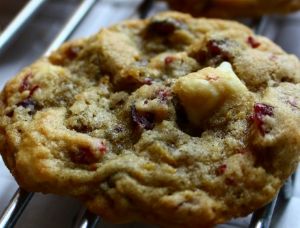 Ingredients
1 cup unsalted butter, softened
1 cup packed light brown sugar
1 cup granulated sugar
4 tablespoons freshly grated orange zest
2 tablespoon vanilla extract
2 large egg
3 cups all-purpose flour
1 tablespoon baking soda
1 ½ cups dried cranberries, chopped
1 ½ cups cup white chocolate chips
1 ½ cups macadamia nuts, chopped (optional)
Directions
Preheat the oven to 350 degrees F. Line 2 baking sheet with parchment paper.
With an electric mixer, cream the butter and both sugars together until smooth. Add orange zest, vanilla and eggs until well incorporated.
Sift together the flour and baking soda. Spoon the flour mixture gradually into the creamed sugar mixture.
Stir in the cranberries, white chocolate chips and macadamia nuts. Drop by heaping spoonful's, about 2 tablespoons, onto the prepared baking sheets, 2 inches apart. Bake one sheet at a time until lightly golden on top and the edges are set, 12 to 15 minutes.
Cool on the sheet about 5 minutes, and then transfer to a wire rack to cool completely.
Store in an airtight container for up to 2 weeks.