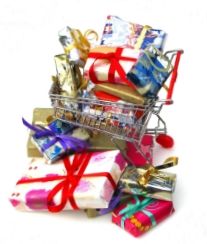 I miss the days when the boys were little and they would go through the sale ads and circle items that they would like. Then I could go shopping and pick out surprises for them. Now they give me big ticket items that they want. So they only get a few gifts, as opposed to having lots under the tree.
The oldest thinks he has it all figured out. He says he will give me his old PS3 to give to Trent, and then the $ I would save on T's gift I can get him the new PS4 (I think that's the one he wants). Um, don't think so, I don't want to use a "used" gift for a Christmas gift! I don't even know what Trent wants, and I won't be able to go shopping for him until he gets home on the 20th. I will be one of those last minute shoppers this year.. UGH!
As for my hubby, he sort of hinted around about a watch, so I am going to browse Michael Kors jewelry site to see what I like. Still not sure why he wants a watch, as he won't be able to wear it at work, and we rarely go anywhere anymore. But if that's what he want, then so be it.
I have ideas for the inlaws, just need to get my butt in gear to get them started! Knowing me I will be working on these right up until the very last second, as I do every year!
Then to find the pets a few items to put in their stockings; and that reminds me, I need to get a stocking for Lici.