Oh I am so going to try this one!!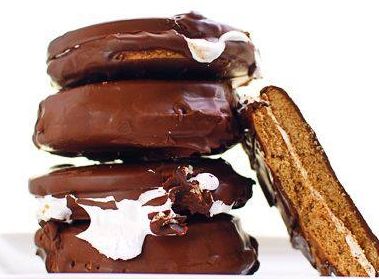 MOON PIE RECIPE:
Yield 15
Ingredients:
3 cups all purpose flour
2-1/2 cups graham flour
1 teaspoon sea salt
1 teaspoon baking powder
1 teaspoon baking soda
1/2 teaspoon cinnamon
1-1/2 cups unsalted butter (3 sticks)
1/2 cup dark brown sugar
1/2 cup molasses
1/4 cup milk
1 teaspoon pure vanilla extract
2 (7.5 oz jar) Marshmallow creme
15 oz semi sweet chocolate
1/4 cup oil
Instructions:
Mix flours, salt, baking soda, baking powder and cinnamon in a large bowl until fully incorporated.
Cut butter in to cubes and beat in stand mixer until fluffy.
Add sugar, and extract to butter and beat until well combined.
Add dry ingredients and beat until a crumbly mixture evolves.
Add molasses, then milk until a stiff dough forms.
Chill dough for one hour.
Preheat oven to 350° F
Roll out dough, about 1/4? thick (or a little less) on lightly dusted surface.
Cut circles out with cookie cutter.
Bake until edges are slightly brown, about 15 minutes.
Let cool completely.
Spread marshmallow creme on half of the cooled cookies and top with another cookie, making a sandwich.
Place marshmallow sandwiches in freezer for about 30 minutes.
Using a double boiler (or a bowl set over barely simmering water) melt/temper chocolate and oil, stirring occasionally.
Carefully dip each sandwich in the chocolate until covered.
Transfer to a cooling rack with parchment paper underneath (to catch the drippings)
after about 20 minutes transfer to a parchment lined pan and let set at room temperature until the coating is firm (this may take several hours)
Store in air tight container.