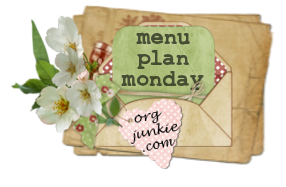 It's Monday again. Time to get your menus planned. Stop on over at
Laura's
and see if you can some tasty new ideas for dinner.
Sunday ~ burgers, fries and beans
Monday ~ baked ziti and garlic toast
Tuesday ~ pork chops, potatoes, corn and rolls
Wednesday ~ guys are grabbing something on their way home from hunting.... I am going out with a friend
Thursday ~ pizza
Friday ~ fajitas and rice
Saturday ~ ??