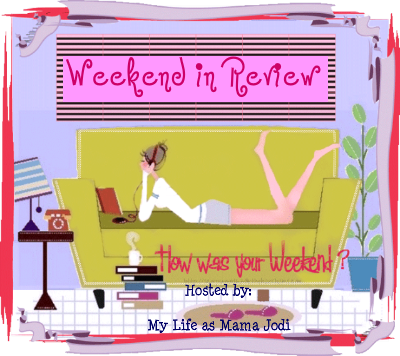 Weekend rewind. If you want to play along, grab the above button and tell me all about your weekend!
Friday
~ Did the grocery run and bank run in the am. Then off to Michael's to find a last minute craft I wanted to get done before I left for the women's retreat. Got everything ready for the guys for the weekend, then headed out to the retreat. What a fun night we had at the hotel, hand massages, relaxing in the hot tub/pool and then getting to know my room mates a little better. Its funny... we were told to keep it quiet after a certain time, guess who's room was the loudest!?!?! Our beloved Pastors... Hmmmmmm
Saturday
~ Woke up early to get ready to head back to the church, forgot that I had cookie duty for church on Sunday, so I had to make a stop at the store to grab some as I wasn't able to attend church on Sunday, due to a family matter. The second have of the retreat was very good, lots of laughs and crying, but all good! The church was decorated very cute with all of the purses! I even had a table to set up my 31 display.
Once home, I did some cleaning and then relaxed while I waited for my cousin and uncle to get here from Alabama.
Sunday
~ John left for church, I stayed home and visited with my cousin. For lunch I made baked ziti, which John said "coming downstairs to the smell of onion/garlic cooking reminds me of growing up" (they had spaghetti every Sunday, and for a while I was continuing the tradition, but it got to be too much with church, so have changed my spaghetti making day to Monday's). Later in the day/night we headed out to Grand Haven, as Ginger has never been to Lake Michigan. It was a fun and relaxing night walking the pier.
What did you do this weekend? Let me know if you play along!