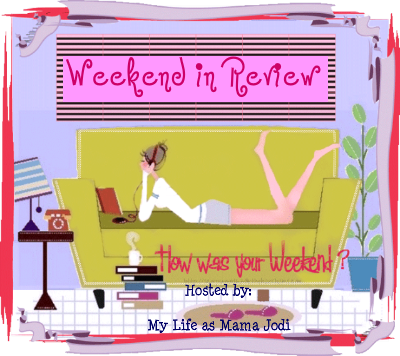 Weekend rewind. If you want to play along, grab the above button and tell me all about your weekend!
Friday
~ Started out as my usual Friday routine, got groceries, ran a few errands, tried to get ahold of Trent to see if he wanted to go with me to the cottage where Robyn was vacationing with her parents. No luck, so off I went. It was a relaxing couple of hours on the pontoon boat. Robyn, the boys and her dad fished, while I read.
Saturday
~ Tubing day!!! Pics will come at a later date, as I have to drop off the disposable camera to get developed. And of course our day started out as a rain day. They dropped us off and it was lightly raining, then as soon as the bus left, it poured, thunder and lightening soon followed. We finally walked up to the campground area to hang out in the bathroom.... and it had a nice warm hand dryer that we all used to warm up a bit. We kept checking to see if it had let up, when finally we saw the sun! So back down to the river we went, got all the tubes tied together, and started our float down the river. About half way it started to rain again... and boy were we all cccooolllddd. We made it back to the landing area, only to have the sun finally come out to stay. Go figure!
Off to Bennigan's we went for potato soup! YUM!
Sunday
~ Church in the am, then home for a nap. John went to hear his dad play the accordian at some event he was at.
What did you do this weekend? Let me know if you play along!