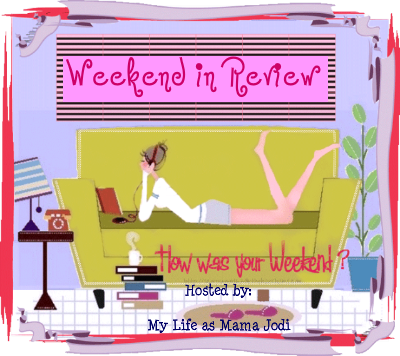 Weekend rewind. If you want to play along, grab the above button and tell me all about your weekend!
Friday
~ Trent and I went and saw "Soul Surfer" ~ great movie! Also saw a couple of previews for some other good family movies coming up as well. The rest of the day/night was spent just lounging around.
Saturday
~ John and Trent had a father/son day with the church for breakfast and bowling. I went grocery shopping, stopped at the mall to exchange some jeans, and ended up getting some shirts as that store didn't have any jeans in my size (there were making room for shorts), then a stop at Costco. I spent more than I thought I was, but I now have a well stocked freezer! I am so going to love having a freezer! I am still hoping to find a great deal on a side of beef and pork to keep us stocked for a while!
Then it was home to finally start my baking. I didn't get very far, as John and I went shoe shopping, and he says I am a picky shopper. Oh my, he tried on so many stinkin' shoes, and I grabbed one pair of flip flops, tried them on and was satisfied.
We fired up the grill for the first time, with steaks. Oh yum! A perfect ending to a perfect day!
Sunday
~ Church in the morning, then to the Corner Bar for lunch, to use my free coupon for my birthday. I wanted to get out and enjoy the awesome weather we were having, but someone laid on the couch while reading the newspaper and took a nap. So I grabbed a few winks myself. I then finished my baking and started watching "The Kennedy's". I didn't know it started already, so I am playing catch up, thank goodness for ONDEMAND!
What did you do this weekend? Let me know if you play along!